Bookings
Please use this booking form below for all reservations unless it is for more than 14 guests. In this case please call or email us as we offer set menu or pre-order options for large bookings. We also require a credit card to hold large bookings of 6 or more.
Please allow at least 90 minutes with us. Especially on Friday and Saturday nights! All bookings are 2 hours unless you specify differently. Just contact us if you want more than 2 hours.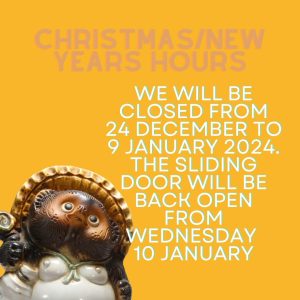 If you cannot reserve the time you want on-line, it means the
restaurant is fully booked at that time.  Walk ins are welcome for the sushi counter, or ring us as we may have our private room open to reserve for small groups on busy nights.