Dinner Menu
Izakaya food is meant to be shared. Order a few plates and have some fun!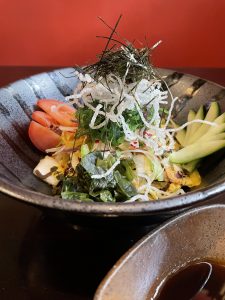 ROLLED MAKI SUSHI
VEGETABLE ROLL $13.00
SALMON & AVOCADO ROLL $19.00
SPICY TUNA ROLL  $18.00
KABAYAKI EEL ROLL  $23.00
TIGER ROLL  $16.00
NIGIRI SUSHI
CHEF'S SELECTION OF NIGIRI SUSHI (MEDIUM) $28.00
ABURI SALMON NIGIRI $13.00
BEEF TATAKI NIGIRI $13.00
SASHIMI
CHEF'S SELECTION OF SASHIMI (LARGE) $75.00
CHEF'S SELECTION OF SASHIMI (MEDIUM) $43.00
STARTERS
MISO SOUP $4.00
STEAMED RICE $4.00
EDAMAME $7.00
TAKO WASABI $8.00
BROCCOLI $12.00
BEEF TATAKI $18.00
TANUKI TOFU $13.00
WAGYU $18.00
NOMBE PLATE  $15.00
GRILLED & BRAISED PLATES
KAKUNI $16.00
TERIYAKI SALMON $29.00
TERIYAKI CHICKEN $23.00
SAIKORO BEEF  $29.00
DEEP FRIED PLATES
EGGPLANT WITH SWEETENED MISO GLAZE $16.50
PRAWN TEMPURA $26.00
VEGETABLE TEMPURA $22.00
DEEP FRIED CHEESE $12.00
CRISPY FRIED SOFT SHELL CRAB $22.50
KARAAGE FRIED CHICKEN $19.00
AGEDASHI TOFU $13.00
ALLERGY AND INTOLERANCE NOTICE
Please advise us of any allergies before ordering.
We cannot guarantee against traces of allergens.
We have a GF and Vegetarian menu on request.